Reasons to See an Orthodontist – Worcester, MA
Knowing When to Seek the Care You Need
At Simply Orthodontics, our team of experts knows common orthodontic problems when we see them. But just because we can recognize bite problems, overcrowding and gapped teeth doesn't mean it's as easy for patients like yourself. Fortunately, Dr. Sam Alkhoury is an orthodontist in Worcester who is ready to help you achieve the smile of your dreams. No matter the problem, he can deliver beautiful results that will last a lifetime. Using proven techniques to realign teeth and create fully functional bites, you will notice a dramatic difference in how you look and feel after completing orthodontic treatment.
If you are ready to take the next step to improve your smile, contact our office today. We'll be happy to assist and put you on the right path. Want to know more about the signs that dictate when you should see a local orthodontist? Check out the information below: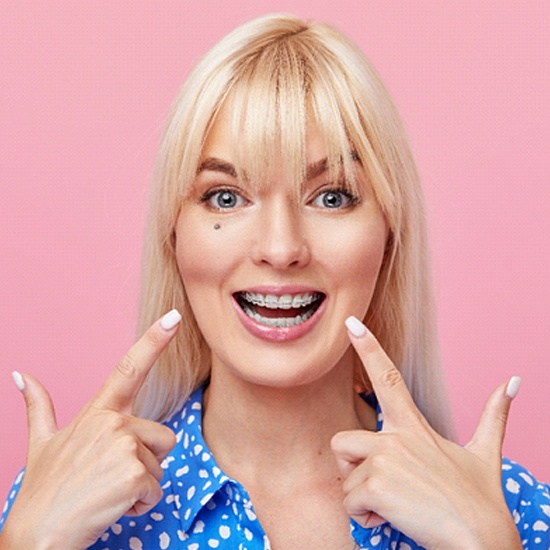 Overcrowding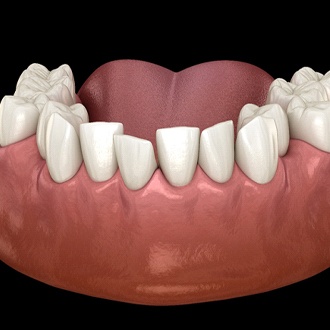 Brushing and flossing can be almost impossible when your teeth sit too close together. Trying to maneuver between your teeth to remove harmful bacteria and food particles can leave you vulnerable to tooth decay and gum disease. Fortunately, with braces, an orthodontist can shift your teeth in a way that creates necessary space and generates a more pleasing aesthetic that leaves you feeling more confident than ever before.
Gapped Teeth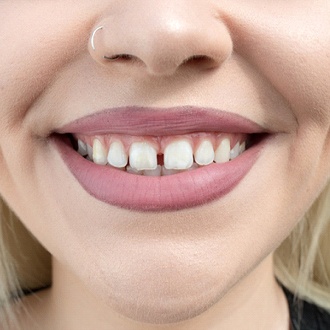 Unlike crowded teeth that are pushed close together, gapped teeth sit too far apart. While this may have once been a "cute" look when you were a child, the reality is that these gaps trap bacteria and food, making it hard to maintain good oral health as you grow. Not to mention, you may feel embarrassed by your appearance. With the help of a professional, you can watch as your teeth move closer together, creating a more even appearance that allows your smile to look uniform and your teeth properly spaced.
Overbite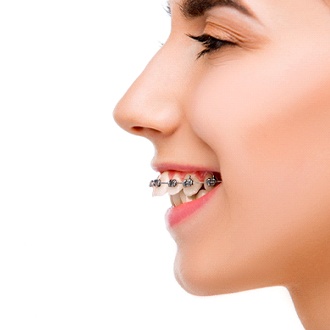 If you notice that your top teeth stick out too far over your bottom teeth, you have an overbite. This type of problem can lead to excessive wear and tear to your tooth enamel and cause it to break down and become thin over time. Additionally, you may feel pain developing in your jaw. An orthodontist in Worcester can formulate a plan that will guide your teeth into the proper position using braces, giving you a smile that functions properly and appears more pleasing to the eye.
Underbite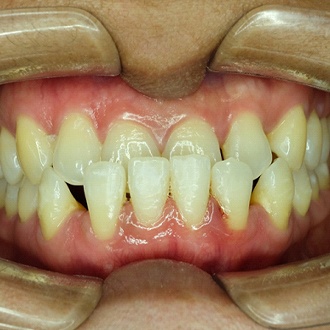 With an underbite, your lower teeth will jut out past your upper teeth. Not as common as an overbite, patients with his type of malocclusion will need braces to reduce the chances of temporomandibular joint disorder and worn down tooth enamel.
Crossbite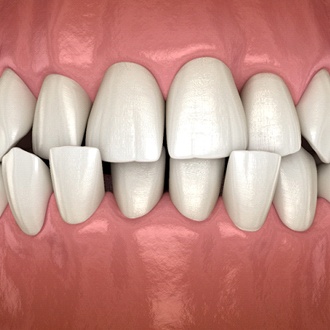 When examining your smile, an orthodontist can easily identify if you have what is referred to as a crossbite. Should your teeth overlap when closing your mouth, you will begin to notice your tooth enamel wearing down over time. Also, your jaw can experience much pain and discomfort, and because of the thinning enamel, you may begin to experience tooth sensitivity. Much like an overbite and underbite, Dr. Alkhoury can apply braces in the appropriate areas to bring your upper and lower teeth into proper alignment, creating a smile that no longer appears crooked.
Open Bite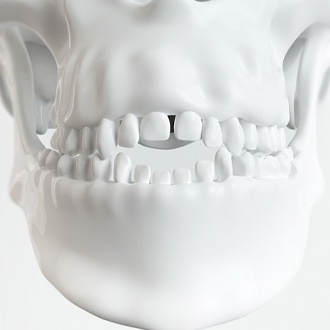 Non-nutritive habits as a child are often the reason for a patient to develop an overbite or open bite. When the back teeth touch but the front teeth do not when you close your mouth, this is what is known as an open bite. Prolonged pacifier use and thumb-sucking are the most common culprits, but with the help of braces, we can bring your front teeth into alignment, allowing your entire smile to match up beautifully.
Impacted Canines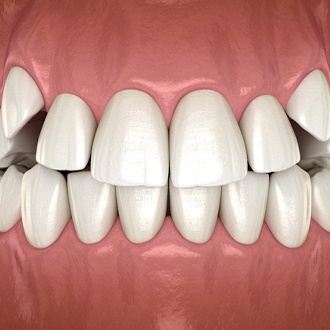 If for some reason your canine teeth (incisors) do not descend, it's time to see an orthodontist. These teeth can be pulled down using the correct form of braces, allowing there to be more tooth structure exposed and your smile to look and function normally.