Orthodontic Emergencies – Worcester, MA
Tips for Restoring Your Pain-Free Smile
As you eye the freshly popped bag of popcorn next to you, you find yourself thinking, "A couple of handfuls can't really hurt, can it?" After all, braces are built with durability in mind! While that may be the case, all it takes is one wrong bite for one of your brackets to become loose or a wire to dislodge, resulting in an orthodontic emergency. Not only can this situation be incredibly anxiety-inducing, but it can also be extremely painful. That's why our team is sharing tips for restoring your pain-free smile!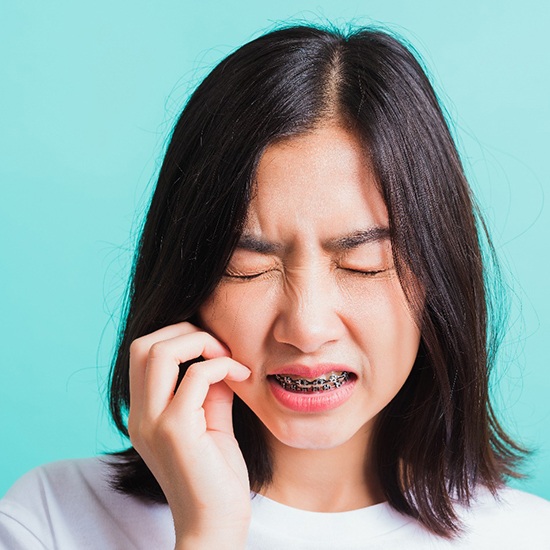 How to Handle Common Orthodontic Emergencies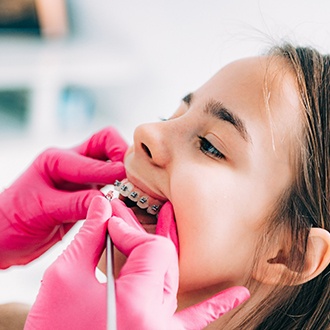 The combination of high-quality materials, a solid oral care regimen and good dental habits make your braces virtually indestructible. With that being said, it is possible for an orthodontic emergency to arise at a moment's notice, which is why being prepared is paramount. Keep reading to learn how to handle a few of the most common ones:
Broken/Loose Brackets
Although a broken or loose bracket isn't typically painful, it can delay your treatment if it isn't handled swiftly. If a piece has broken off entirely, then place it in a plastic bag or small container until your next appointment. If it is still attached and scraping the soft tissue in your mouth, apply orthodontic wax to the sharp edges to prevent further irritation. Either way, make sure to get in touch with our team so we can walk you through the next best steps.
Poking Wire
Like a loose bracket, a protruding wire can be handled with ease thanks to orthodontic wax. If it continues to be a source of irritation, you can carefully use a Q-tip to guide the wire back into place. However, it's always best to leave adjustments to our team, which is why we recommend calling our office first.
Broken Retainer
Your retainer is the key to preserving your hard-earned results. Without it, your teeth will begin to gradually shift back into their previous position. To prevent that from happening, contact us as soon as your retainer breaks. Whether it shatters into multiple pieces or sustains a small crack, we will do what we can to repair it or replace it altogether.
Tooth Pain
Some soreness is natural with braces. After all, moving your teeth into an entirely new position comes with some discomfort. However, if you are experiencing a toothache, then there are a few steps you can take. First, rinse with a mixture of salt and warm water. This natural disinfectant is not only extremely convenient, but it can also kill harmful bacteria and dissolve debris between your teeth. From there, gently use floss to clean around the metal wires and along the gum line. If the pain persists, contact our office so we can conduct a comprehensive exam and determine the root of the problem.
How to Prevent Orthodontic Emergencies
While orthodontic emergencies aren't entirely preventable, there are a few best practices you can implement to significantly reduce your risk of experiencing one. With this in mind, make sure to:
Brush twice a day, floss daily and use mouthwash regularly.
Avoid foods that can potentially break a bracket or wire, like apples or hard candy.
Attend your follow-up appointments so our team can monitor the condition of your braces and overall oral health.
Limit sugary foods and beverages, which increases your risk of tooth decay.
Quit poor oral habits, like chewing on ice or using your teeth as tools.
Although each orthodontic emergency is unique, there is one all-encompassing resource that is only one phone call away: our team! Whether you have a question about preventing a dental injury or need urgent treatment, don't hesitate to give us a call.